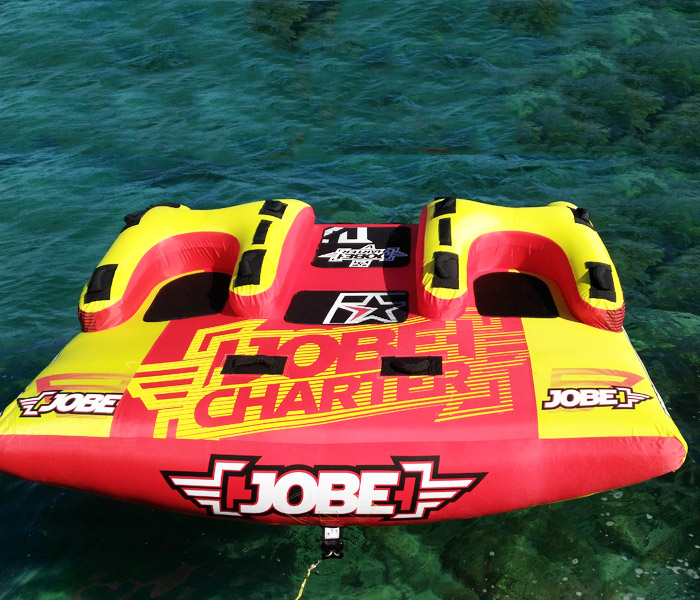 The Charter has a total of 10 handles, so hold on tight and get ready for a day filled with fun!
This towable is made to endure with its 8400 denier nylon.
The tube is fully covered which doesn't only make it look better but also protects the tube against sharper objects.
The inners on this towable are made with PVC, which ensures a light, yet strong product, that can undergo some abuse.
It comes with a convex base, which reduces the drag and makes it easier to start, perfect for those with a little less horsepower.
In addition to the convex base, it has not one but two water drains.
These drains release water from the nylon and make the charger a lighter towable.
This will make sure the materials last longer, the performance is better and reduce fuel consumption.
HEAVY DUTY BANANA MULTIRIDER 5P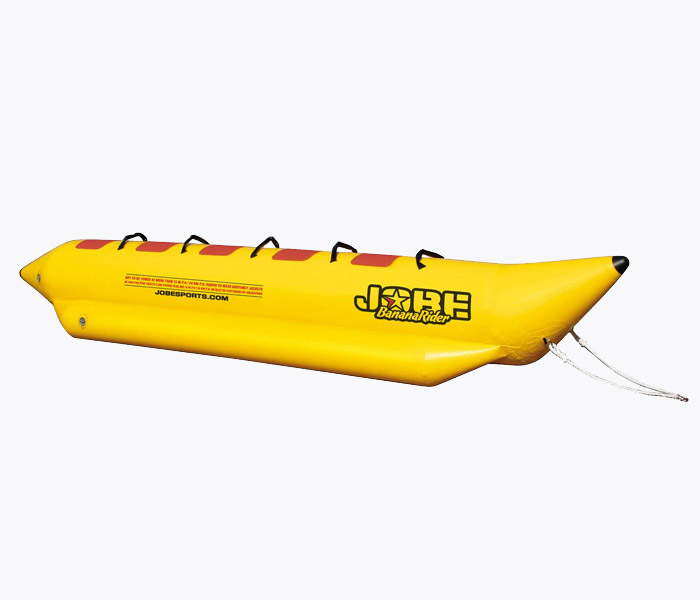 Multi rider is a friends new fun-machine, engineered with an extra long nose and reinforced side floats for stability.
Don't look at competitors: its heavy duty PVC-coated material is the thickest in in the industry and its thermo-bonded seams provide extra durability.
Designed with minimal resistance in mind, this towable is super stable yet oh-so-speedy.
- Thickness PVC: 0.9 MM
- Max 5 persons towable
- Extra-long nose and reinforced side floats for more stability
- Deflated size : 215" x 51", 548 x 130 cm
HEAVY DUTY SHIELD TOWABLE 4P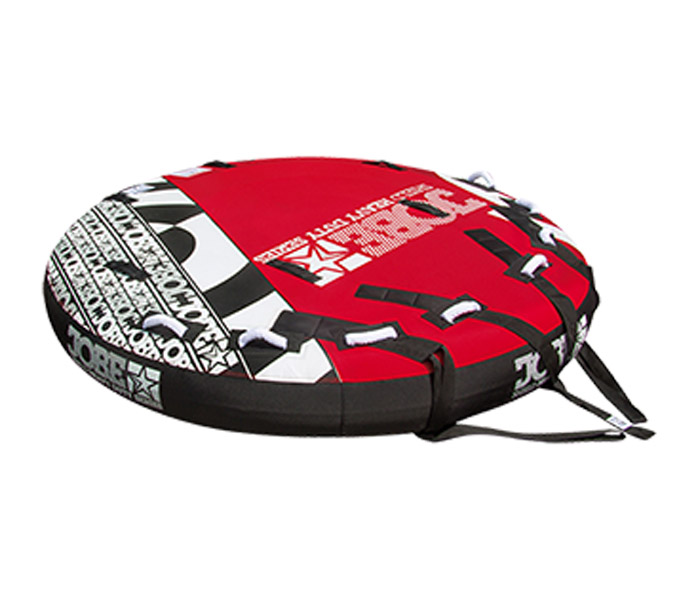 This towable is engineered with 840D double-layered nylon and has 8 reinforced handles, a tarpaulin bottom, a laminated neoprene pad.
All ingredients for a stable and durable fun-tube. persons towable
- Max 4
- Quick rope connector
- 8 Reinforced handles with neoprene knuckle guards
- 4 Neoprene handles
- Neoprene seat pad
- Deflated size : Ø92.5 " | Ø235 cm